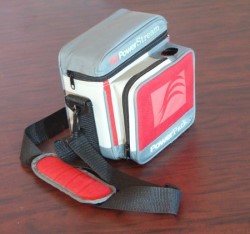 The innovative PST-BP200 uses a leakproof sealed lead acid battery to create a 15 pound portable power source. Includes both AC and car chargers. Battery pack with cigarette lighter output.

Often we get calls from photographers, astronomers, field researchers, CPAP patients , campers, fishermen and plain ordinary people like us who need a convenient source of portable power to power DC equipment in the field. The BP23 2.3 AH 12V accupack was developed for this purpose, and now the BP-200 extends this to almost 10 times the stored energy, weighing less than 15 pounds (with other configurations that store and weigh less). The charging can be done from an AC outlet or a car, and the output is a female cigarette lighter socket output for easy use. This is a package consisting of a 7.5AH to 22 amp-hour, 12 volt sealed lead acid rechargeable battery, a 12V cigarette lighter socket output and both an AC charger and a DC car charger.


It consists of a tough padded nylon-canvas fabric bag that contains the battery and wiring for charging and discharging. The sealed lead acid battery can be charged or discharged in any position and is completely non-spillable. The charger is in a pouch and can be left home if you don't want to carry it with you.

For example, when the portable battery is used with your cell-phone car charger attached the BP-200 can run a typical cell phone for 150 times longer than the battery in the phone, or charge the phone 100-150 times.

Special Features :
12 to 22 Amp-Hour (depending on model selected), 12 Volts lead acid rechargeable battery may be operated in any position.
Portable rechargeable battery with automatic overcharge protection
Directly power devices designed to plug into a car power point or cigarette lighter, such as laptops, games, cell phone chargers, GPS, palmtop computers, flashlights, cellular "bag" phones, heated clothing, sports score boards, sleep apnea or 12 volt model car chargers.
For added flexibility use our regulated DC/DC car power adapters for voltage outputs from 1.5 volts to 24 volts to enjoy unlimited use of electronic products such as games, CD players, walkmans, score boards, video cameras, MINI TVs, and heated clothing.
Battery portable power supply perfect for OEM sales, modifications are available, for example with built-in DC converter, DC charger, or AC inverter. Private label available.
The charger can be carried in the pocket provided or left home to reduce carrying weight.
Certified non-spillable lead acid batteries are qualified for flight on commercial airlines.
| | | | |
| --- | --- | --- | --- |
| Price includes Battery, Bag, AC charger and Car charger | Please allow 1-5 days for shipping | Quantity 1-10 | Quantity 11-50 |
| PST-BP200-HR22 | Uses the HR22-12 battery, see the battery option table below for more details. 12V 22 Amp Hour. | $199 | $181 |
| PST-BP200-BC18 | Uses the new reduced weight BC18-12 battery, below for more details. 12V 18 Amp Hour | $185 | $168 |
| PST-BP200-BC12 | Uses the new reduced weight BC12-12 battery, see below for more details. 12V 12 Amp Hour | $159.60 | $137 |
| Optional USB cell phone charger | 4 USB charging ports and an extension socket, no charging cords included | $15.75 | |

Specifications
Portable battery life table:
Battery options
HR22-12
BC18-12
BC12-12
Amp-Hours
22 AH
18 AH
12AH
Watt-Hours
264 WH
216 WH
144 WH
Cell-phone charges*
33-67
25-51
17-34
Cycle life
300 cycles
300 cycles
300 cycles
Charge time with included intelligent charger
11 Hours
9 hours
6 hours
Weight including bag
15.1 lbs,
6.85 kg
13 lbs,
5.7 kg
7.7 lbs
3.5 kg

*Based on cell phone batteries of 1400 to 2800 mAH, 85% charger efficiency.
Note: Cycle life predictions are based on 70% depth of discharge at 25°C. The battery is considered "dead" when 60% of initial recoverable capacity remains (in other words when a 20AH battery can only supply 12AH when fully charged it is considered to be at its end-of-life for the purposes of this specification). For 100% depth of discharge (to 10.5 volts) the cycle life will be about half of that in the chart. To achieve these cycle lives the battery must be kept at full charge when not in use. The included battery charger is design to accurately and safely charge and maintain the battery and may be left connected to the battery continuously if desired for standby purposes.

Typical run time calculations
Power Drawn from Battery
(Watts = Amps*Volts)
HR22-12
BC18-12
BC12-12
1 watt
264
Hours
216
Hours
144
Hours
5 watts
53
43
29
10 watts
26.4
21
14.4
15 watts
17.5
14
9.1
20 watts
13.2
10
6
30 watts
8.8
6
3.5
60 watts
3.8
3
1.5
90 Watts
2.2
1.5
1
120 watts
1.3
1
0.6

Accessory Table of DC/DC converters that will offer regulated DC voltage
Q: How long will a CPAP machine run using the PST-BP200-HR22?
A: Using a ResMed Escape II CPAP with the ResMed DC-12 converter one of our customers reports 14 hours run time.

OEM Options can be developed as required:


Fixed voltage output
Adjustable voltage output
AC output
Flexible charging options from DC or solar
Custom connectors
New battery chemistries
Advantages:

Complete off-the-shelf battery pack/charger combination, including AC and Car chargers and 12 volt output.
Reviews

I purchased two BP200/HR22 batteries 12 volt, 2 years ago, for the electric fishing reels after bad experiencing of many type of batteries. Power Pack battery is excellent. It holds up so far. I bought the battery comes with carrying case, which is very nice and compact. I am 100% satisfied.