12 volt power supply and DC UPS for use in cars, 5 amp with annunciation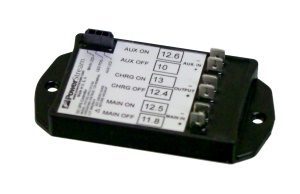 Automotive battery backup system
12 volt DC UPS module keeps 12 volt equipment alive in cars and taxis using an external sealed lead acid battery, acting as a battery back-up(BBU). Can drive LEDs to show what the status is.
---

Click here for the 3Amp DCDC UPS controller module
---

Click here for the 12 amp DC UPS controller.
---

Click here for the 24V 12A car UPS controller
Superbly Engineered Products, Retail, Wholesale, and Custom Designed!


We have several models of the DC/DC UPS control module. This one works in 12 volt systems, has a throughput of 5 amps and has the ability to drive LEDs or relays to indicate the status of the UPS.

This is a microprocessor conrolled uninterruptible power supply control module. You can connect the module to the car's electrical bus and it will charge an external 12 volt lead acid battery of your choice. Your equipment, for example, a small computer, video recorder, or a car alarm, is connected to the module. This equipment runs off the automobile's electrical bus until the voltage from the car drops below a preset voltage, the "N" voltage (from 13.1 to 11.9 volts, depending on your needs). Then the external battery takes over. When the external battery drops below the "P" preset voltage (Between 10 volts and 3 volts depending on your requirements) the power is cut off to either prevent damage to the external battery or to run your equipment as long as possible.

These controllers can charge an auxiliary battery from the car's alternator system.

The auxiliary battery is isolated from the car's electrical system so that it will only operate the equipment attached to the load terminals of the controller.

The load terminals power your equipment from either the car or the auxiliary battery, acting as a battery backup (BBU). The switch positon depends on the voltage levels of the two inputs. This allows your equipment to be powered from the car when car power is available.

The DC UPS controller protects the auxiliary battery from being over-discharged.

The control set-points of the DC UPS controller can be set so that the equipment switches to auxiliary power when the car is shut off.

The setpoints can also be set so the the crossover voltage is lower, say 12.0 volts. This allows the load to run off the car's battery but cut off while the car's starting battery still has enough power to safely start the engine.


One of the most popular applications is to run a small auxiliary battery that kicks in while the car is starting to prevent equipment drop-outs when the car's voltage sags.

Detailed Specifications
PST-DC-UPS-1212-5A
Max Charge Current
200 mA
Charging can occur with input voltages
10V to 15V (this range can be adjusted during manufacture, usually we set it to come on at 13V input, and to stop charging when the main battery drops to 12.4V. This allows charging when the car's engine is turned off.)
Maximum pass-through current
5 amps
Maximum pass-through wattage
60 watts continuous
Type of battery charged
Lead acid, VRLA, SLA, etc.
Nominal Battery Voltage
12 Volts
Battery Capacity
0.8 to 17+ Amp-Hours
Size of module
External battery connects when the input voltage to the module drops below
13.1 to 11.9 volts, see suffixes below
External battery is disconnected from the load when the external battery's voltage drops below
10 to 8 volts, see suffixes below
Temperature
Minimum ambient temperature -10°C (-40°C available upon request)
Maximum ambient temperature of 70°C
Power Connectors
0.187 x 0.032 quick disconnect terminals also known as quick disconnect or Faston terminal
Status Connectors
The connector on the UPS module is a MOLEX 43650-0316. The customer supplied mating connector shell is a MOLEX # 43645-0300. You also need three socket contacts to insert into the shell. These are MOLEX # 43030-0009.
Power Pinout
6 spade terminals clearly labeled as:
3 Ground terminals
External battery positive
Load positive
Car battery positive
Status Pinout
PIN 1. Negative side of the MAIN LED. This pin will be low when load is being powered from the main input. Maximum sink current is 30mA.
PIN 2. Positive supply for the LEDs. Nominal output 12VDC. Do not draw more than 30mA from this pin. Current limiting resistors will be needed in series with the LEDs.
PIN 3. Negative side of the STANDBY LED. This pin will be low when load is being powered from the standby input. Maximum sink current is 30mA.
Weight
3 oz, 87 grams
Dimensions
See drawing below
User's Manual
12V to 12V DC UPS User's Manual
Theory of operation
5A DC-UPS Theory of Operation
Country of Origin
Made in USA, NAFTA eligible
Ordering
See the shopping cart below

The PST-DC-UPS-1212 can be ordered with a range of "N" and "P" values, as explained in the following table.
| | | | |
| --- | --- | --- | --- |
| Suffixes* | Voltage at which car battery is cut of from the load | Voltage at which auxiliary battery is cut off from the load | Why? |
| N13.1 (most common choice) | 13.1 ±0.2 volts | | Load is disconnected from the car electrical bus when the ignition is switched off |
| N12.9 | 12.9 ±0.2 volts | | |
| N12.8 | 12.8 ±0.2 volts | | |
| N 12.7 | 12.7 ±0.2 volts | | |
| N12.6 | 12.6 ±0.2 volts | | |
| N12.0 | 12.0 ±0.2 volts | | |
| N11.9 | 11.9 +0.1 -0 volts | | Allows the load to be powered by the car battery most of the time but still start the car (barely). |
| N?? | Tell us what you need, the range is between 13.1 volts and 11.9 volts. The tolerance is ±6 mV with 2% accuracy | | |
| P10 (most common choice) | | 10 volts | When deep cycling of the auxiliary battery is desired. |
| P8 | | 8 volts | When longest possible system operation is desired regardless of loss of auxiliary battery cycle life. |
| P?? | | Tell us what you need, the range is between 7.5 to 14 volts The tolerance is ±6 mV with 2% accuracys | |
**(For example PST-DC-UPS-1212-N13.1-P10 would be a module which disconnects from the car battery when the car voltage falls lower than 13.1 volts and turns the auxiliary battery off when it falls to 10 volts)


| | | | | |
| --- | --- | --- | --- | --- |
| Model | Price for quantity 1-49 | Price for quantity 50-99 | Quantity 100-499 | Quantity 500+ |
| PC-DC-UPS-1212-5A-N13.1-P10 | $72.00 | $66.80 | $59.50 | $55.50 |
| PC-DC-UPS-1212-5A-N11.8-P10 | $72.00 | $66.80 | $59.50 | $55.50 |
| PC-DC-UPS-1212-5A-Nxx-Pyy | $79.00 | $71.80 | $63.50 | $59.50 |
| In-line fuse kit, consists of 2 in-line automotive spade fuse holders for the battery+ and load+ lines. Includes 10 amp fuses. | $22.00 | $18.30 | $15.90 | $14.25 |
Hook up diagram: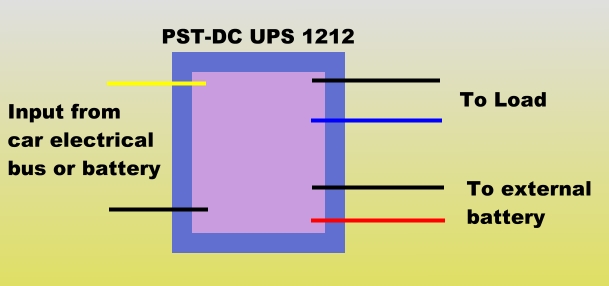 Connection diagram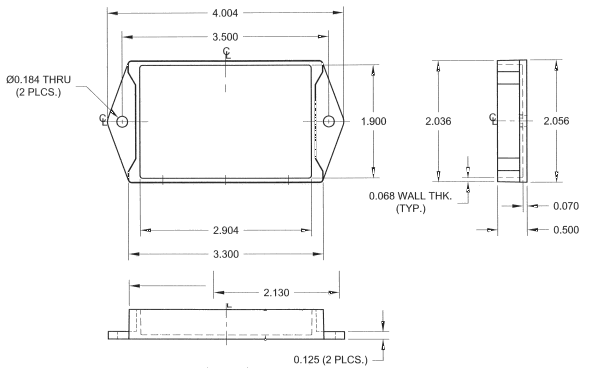 Questions and Answers

1. Q:My application needs more pass-through current, what can I do?
A: We have developed a new module with power up to 120 watts. Click here for details .

2. Q: When the module turns off because both batteries are below their setpoints when does the module turn back on?
A: The module turns back on only when the car's voltage is restored to the proper charge voltage. A new auxiliary battery won't turn the module back on.

3. Q: What do you have for 24 volt systems?
A: Consider the 24 volt version of the 10 Amp backup module which will use 24 volt auxiliary batteries in a 24 volt vehicle.

To order, please call 801-764-9060, FAX to 801-764-9061, or use our shopping cart. You can cancel your order any time before you submit your payment. Wholesale, manufacturer's and OEM pricing available. Custom modifications at low cost.