3V, 3.3V, 5V, 6V, 6.5V, 7V, 8.4V VDC Adjustable Switchmode wall mount Power Supply with International AC Plugs and interchangeable barrel plugs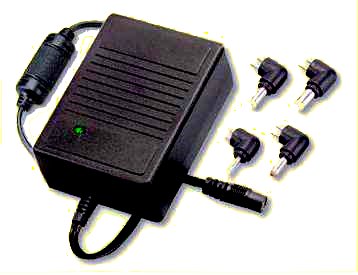 Wall plug Universal AC adjustable output power supply, 2500 mA maximum.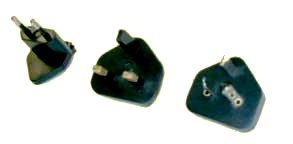 European, British, and Australian AC Plugs included
This is a compact, high quality, switchmode regulated power supply with adjustable output, 15 watts peak.

In Stock, order online or call to order for quantities greater than 100 pieces
Prices

Part Number
PST-1898, AKA PST-AC1898
Parameter
Data
Output
3 volts, 3.3 volts, 5 volts, 6 volts, 6.5 volts, 7 volts or 8.4 volts, single output, user adjustable
Output Power
15 Watts (2.5 amps maximum setting)
Input Voltage
100-240 VAC, 47-63 Hz
No load overhead
300 mW at 110VAC input
Input Frequency
47-63 Hz
Temperature
0° to 40° C Operating
Size
Approximately 52 x 70 x 25 mm
(2 x 3 x 1 inches)
Weight
9.5 oz., 270 grams
Agency Approvals
UL, CUL, double insulated
Four Output Connectors Included
2.35 x 0.75 mm (EIAJ-01), 3.5 x 1.35 mm, 4.0 x 1.7 mm (EIAJ-02), 4.75 x 1.75 mm (EIAJ-03)(all right angles), center positive or negative depending on the connection to the adapter
AC plug
Folding AC plug makes unit easy to carry. International plug adapters slide on, making a solid, semi-permanent connection. (see below)
International Adapters

| | | |
| --- | --- | --- |
| | | |
| Three plugs available, European, British, and Australian | The North American plug folds down and the adapter plug slides in at the end | Showing the European plug attached |
Advantages:

Universal input switchmode power supply with user adjustable output voltage.

High efficiency PC power supply for digital cameras and telecom use.

Excellent line and load regulation.


Line Regulation test. The output current is 500 mA for these tests. Includes AWG wire losses
| | | | | | | | | |
| --- | --- | --- | --- | --- | --- | --- | --- | --- |
| | | LINE REGULATION TEST FOR PST-1898 | | | | | | |
| Voltage Setting | | 3V | 3.3V | 5V | 6V | 6.5V | 7V | 8.4V |
| Input Voltage | Input Frequency | Measured voltage | | | | | | |
| 90V | 50 Hz | 3.22V | 3.55V | 5.13V | 6.16V | 6.58V | 7.15V | 8.44V |
| 100V | 50 Hz | 3.22V | 3.55V | 5.13V | 6.16V | 6.58V | 7.15V | 8.44V |
| 105V | 50 Hz | 3.22V | 3.55V | 5.13V | 6.14V | 6.58V | 7.15V | 8.44V |
| 110V | 50 Hz | 3.22V | 3.55V | 5.13V | 6.14V | 6.58V | 7.16V | 8.44V |
| 115V | 50 Hz | 3.22V | 3.55V | 5.13V | 6.14V | 6.58V | 7.16V | 8.44V |
| 120V | 50 Hz | 3.22V | 3.55V | 5.13V | 6.14V | 6.58V | 7.16V | 8.44V |
| 125V | 50 Hz | 3.22V | 3.55V | 5.13V | 6.13V | 6.58V | 7.16V | 8.44V |
| 200V | 50 Hz | 3.22V | 3.55V | 5.13V | 6.13V | 6.57V | 7.15V | 8.43V |
| 210V | 50 Hz | 3.22V | 3.55V | 5.13V | 6.14V | 6.57V | 7.15V | 8.43V |
| 220V | 50 Hz | 3.22V | 3.55V | 5.13V | 6.14V | 6.57V | 7.15V | 8.43V |
| 230V | 50 Hz | 3.22V | 3.55V | 5.13V | 6.14V | 6.57V | 7.15V | 8.43V |
| 240V | 50 Hz | 3.22V | 3.55V | 5.13V | 6.13V | 6.56V | 7.15V | 8.43V |
| | | | | | | | | |
| Voltage Setting | | 3V | 3.3V | 5V | 6V | 6.5V | 7V | 8.4V |
| Input Voltage | Input Frequency | Measured voltage | | | | | | |
| 90V | 60Hz | 3.18V | 3.52V | 5.10V | 6.15V | 6.59V | 7.16V | 8.44V |
| 100V | 60Hz | 3.18V | 3.52V | 5.10V | 6.15V | 6.59V | 7.16V | 8.44V |
| 105V | 60Hz | 3.18V | 3.52V | 5.10V | 6.15V | 6.59V | 7.16V | 8.44V |
| 110V | 60Hz | 3.18V | 3.52V | 5.10V | 6.15V | 6.59V | 7.16V | 8.44V |
| 115V | 60Hz | 3.18V | 3.52V | 5.10V | 6.15V | 6.59V | 7.16V | 8.44V |
| 120V | 60Hz | 3.18V | 3.52V | 5.10V | 6.15V | 6.59V | 7.16V | 8.44V |
| 125V | 60Hz | 3.18V | 3.52V | 5.10V | 6.15V | 6.59V | 7.16V | 8.44V |
| 200V | 60Hz | 3.18V | 3.52V | 5.10V | 6.15V | 6.59V | 7.16V | 8.43V |
| 210V | 60Hz | 3.18V | 3.52V | 5.10V | 6.15V | 6.59V | 7.16V | 8.43V |
| 220V | 60Hz | 3.18V | 3.52V | 5.10V | 6.15V | 6.59V | 7.16V | 8.43V |
| 230V | 60Hz | 3.18V | 3.52V | 5.10V | 6.15V | 6.59V | 7.16V | 8.43V |
| 240V | 60Hz | 3.18V | 3.52V | 5.10V | 6.15V | 6.59V | 7.16V | 8.43V |
Line and load regulation at 60 Hz, 3 volt setting
Load
90V
100V
105V
110V
115V
120V
125V
200V
210V
220V
230V
240V
I=.50A
3.25V
3.25V
3.25V
3.25V
3.25V
3.25V
3.25V
3.25V
3.25V
3.25V
3.25V
3.25V
I=1.0A
3.17V
3.17V
3.17V
3.17V
3.17V
3.17V
3.17V
3.17V
3.17V
3.17V
3.17V
3.17V
I=1.5A
3.08V
3.08V
3.08V
3.08V
3.08V
3.08V
3.08V
3.08V
3.08V
3.08V
3.08V
3.08V
I=2.0A
2.99V
2.99V
2.99V
2.99V
2.99V
2.99V
2.99V
2.99V
2.99V
2.99V
2.99V
2.99V
I=2.5A
2.91V
2.91V
2.91V
2.91V
2.91V
2.91V
2.91V
2.91V
2.91V
2.91V
2.91V
2.91V
Line and load regulation at 60 Hz, 3.3 volt setting
90V
100V
105V
110V
115V
120V
125V
200V
210V
220V
230V
240V
I=.50A
3.58V
3.58V
3.58V
3.58V
3.58V
3.58V
3.58V
3.58V
3.58V
3.58V
3.58V
3.58V
I=1.0A
3.50V
3.50V
3.50V
3.50V
3.50V
3.50V
3.50V
3.50V
3.50V
3.50V
3.50V
3.50V
I=1.5A
3.41V
3.41V
3.41V
3.41V
3.41V
3.41V
3.41V
3.41V
3.41V
3.41V
3.41V
3.41V
I=2.0A
3.34V
3.34V
3.34V
3.34V
3.34V
3.34V
3.34V
3.34V
3.34V
3.34V
3.34V
3.34V
I=2.5A
3.27V
3.27V
3.27V
3.27V
3.27V
3.27V
3.27V
3.27V
3.27V
3.27V
3.27V
3.27V
Line and load regulation at 60 Hz, 5 volt setting
90V
100V
105V
110V
115V
120V
125V
200V
210V
220V
230V
240V
I=.50A
5.16V
5.16V
5.16V
5.16V
5.16V
5.16V
5.16V
5.16V
5.16V
5.16V
5.16V
5.16V
I=1.0A
5.08V
5.08V
5.08V
5.08V
5.08V
5.08V
5.08V
5.08V
5.08V
5.08V
5.08V
5.08V
I=1.5A
5.0V
5.0V
5.0V
5.0V
5.0V
5.0V
5.0V
5.0V
5.0V
5.0V
5.0V
5.0V
I=2.0A
4.91V
4.91V
4.91V
4.91V
4.91V
4.91V
4.91V
4.91V
4.91V
4.91V
4.91V
4.91V
I=2.5A
4.85V
4.85V
4.85V
4.85V
4.85V
4.85V
4.85V
4.85V
4.85V
4.85V
4.85V
4.85V
Line and load regulation at 60 Hz, 6 volt setting
90V
100V
105V
110V
115V
120V
125V
200V
210V
220V
230V
240V
I=.50A
6.21V
6.21V
6.21V
6.21V
6.21V
6.21V
6.21V
6.21V
6.21V
6.21V
6.21V
6.21V
I=1.0A
6.13V
6.13V
6.13V
6.13V
6.13V
6.13V
6.13V
6.13V
6.13V
6.13V
6.13V
6.13V
I=1.5A
6.05V
6.05V
6.05V
6.05V
6.05V
6.05V
6.05V
6.05V
6.05V
6.05V
6.05V
6.05V
I=2.0A
5.97V
5.97V
5.97V
5.97V
5.97V
5.97V
5.97V
5.97V
5.97V
5.97V
5.97V
5.97V
I=2.5A
5.89V
5.89V
5.89V
5.89V
5.89V
5.89V
5.89V
5.89V
5.89V
5.89V
5.89V
5.89V
Line and load regulation at 60 Hz, 6.5 volt setting
90V
100V
105V
110V
115V
120V
125V
200V
210V
220V
230V
240V
I=.50A
6.65V
6.65V
6.65V
6.65V
6.65V
6.65V
6.65V
6.65V
6.65V
6.65V
6.65V
6.65V
I=1.0A
6.57V
6.57V
6.57V
6.57V
6.57V
6.57V
6.57V
6.57V
6.57V
6.57V
6.57V
6.57V
I=1.5A
6.49V
6.49V
6.49V
6.49V
6.49V
6.49V
6.49V
6.49V
6.49V
6.49V
6.49V
6.49V
I=2.0A
6.41V
6.41V
6.41V
6.41V
6.41V
6.41V
6.41V
6.41V
6.41V
6.41V
6.41V
6.41V
I=2.5A
6.34V
6.34V
6.34V
6.34V
6.34V
6.34V
6.34V
6.34V
6.34V
6.34V
6.34V
6.34V
Line and load regulation at 60 Hz, 7 volt setting
90V
100V
105V
110V
115V
120V
125V
200V
210V
220V
230V
240V
I=.50A
7.22V
7.22V
7.22V
7.22V
7.22V
7.22V
7.22V
7.22V
7.22V
7.22V
7.22V
7.22V
I=1.0A
7.14V
7.14V
7.14V
7.14V
7.14V
7.14V
7.14V
7.14V
7.14V
7.14V
7.14V
7.14V
I=1.5A
7.06V
7.06V
7.06V
7.06V
7.06V
7.06V
7.06V
7.06V
7.06V
7.06V
7.06V
7.06V
I=2.0A
6.99V
6.99V
6.99V
6.99V
6.99V
6.99V
6.99V
6.99V
6.99V
6.99V
6.99V
6.99V
I=2.5A
6.90V
6.90V
6.90V
6.90V
6.90V
6.90V
6.90V
6.90V
6.90V
6.90V
6.90V
6.90V
Line and load regulation at 60 Hz, 8.4 volt setting
90V
100V
105V
110V
115V
120V
125V
200V
210V
220V
230V
240V
I=.50A
8.51V
8.51V
8.51V
8.51V
8.51V
8.51V
8.51V
8.51V
8.51V
8.51V
8.51V
8.51V
I=1.0A
8.42V
8.42V
8.42V
8.42V
8.42V
8.42V
8.42V
8.42V
8.42V
8.42V
8.42V
8.42V
I=1.5A
8.35V
8.35V
8.35V
8.35V
8.35V
8.35V
8.35V
8.35V
8.35V
8.35V
8.35V
8.35V
I=2.0A
8.26V
8.26V
8.26V
8.26V
8.26V
8.26V
8.26V
8.26V
8.26V
8.26V
8.26V
8.26V
I=2.5A
8.18V
8.18V
8.18V
8.18V
8.18V
8.18V
8.18V
8.18V
8.18V
8.18V
8.18V
8.18V