This is a compact, high quality, 3.3V switchmode regulated power supply, double insulated, and LPE, 13.2 watts continuous with UL and international agency approvals.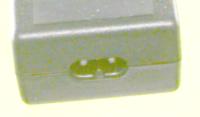 Close up showing the IEC C7 input connector. The unit comes with the power cord as priced.
In Stock, order online or call to order for quantities greater than 100 pieces

Prices

Part Number
PST-AC0340 (Also marked as SA06N3V3)
Parameter
Data
Output
3.3 Volts DC
Output Power
13.2 Watts, 4.0 amps, 4000 mA
Input Voltage
100-240 VAC, 50-60 Hz
Input Frequency
50-60 Hz
Temperature
0° to 40° C Operating
Size
Approximately 50 x 89 x 32 mm
(2 x 3.5 x 1.25 inches)
Weight
5.5 oz (155 gms) without AC cord,
11 oz (300 gms) with AC cord
Agency Approvals
UL, cUL, LPS, CB, TUV GS, CE, PSE JET, Double Insulated, for indoor use.
Output connector
5.5 x 2.1 mm x 9.6 barrel connector, center positive,
a variety of slip-on semi-permanent connectors are available below.
AC plug
Removable IEC C14 connector makes it easy to use international mains cords.
Advantages:

Universal input switchmode power supply with fixed 3.3 volt output voltage, 4 amps or less.

High efficiency PC power supply for digital cameras and telecom use.

Excellent line and load regulation.