These are high-performance industrial grade ATX computer power supplies with 48 volt DC input. They are useful for applications where battery or solar power is available. These are regulated switching power converters. For use in 48 volt cars, boats, motor homes, etc.


PSTC-482500
PSTC-482500H Wide temperature range

$3850

Special order, allow 5 weeks
$3950

Special order, allow 5 weeks

Features

1. Has the European CE Mark, meets IEC60950-1, EN60950
2. Standard connector kit up-to-date
3. Remote ON/OFF
4. Built in EMI Filter, meets FCC Part 15 Class B,EN55032:2015/AC:2016, CISPR32:2015, EN61000-3-2:2014, EN61000-3-3:2013, EN55024:2010 +A1:2015
5. "Power Good" signal
6. Terminal strip for DC input
7. >65% efficiency
8. DC 48 volt nominal, 37-71 VDC INPUT
9. Fully ATX compatible
10. Remote Sense for Main Output
11.100% ATE Test
12.100% Hi-pot Test
13.100% Burn-in
14. Warranty : One year
15. Fully isolated, 1000 VAC for 60 seconds input to output, 1000 VAC for 60 seconds input to frame ground.
16. Mean time between failure >55,000 hours
17. Dual ball bearing fan


Quick glance
Specs
Input Range
Max
Power
+5 V
+3.3 V
+12 V
-5 V
- 12 V
+5 V SB
PSTC-482500 car PC power supply
37-71 VDC, 48 volts nominal
2500 W
35A
35 A
181A
n/a
1 A
4 A
Detailed Specification:
Detailed Specifications
V / A
V / A
V / A
V / A
V / A
VSB /A
PSTC-482500
+5V / 35A
+12V / 181A
-5V n/a
-12V / 1.00A
+3.3V / 35.0A
+5V / 4A
Maximum Amps
35 Amps
181 Amps
n/a
1 Amps
35 Amps
6 Amp
Minimum Load
1 Amps
0.5 Amps
0 Amps
1 Amps
0 Amps
Note: Combined Total Power From +3.3V And +5V rails Not to Exceed 230W. Total Power 2500W Max.
Output
Line Regulation
1%
Load Regulation
5%
Ripple & Noise
1%
Hold-up time
16ms
Rise time
<20mS
Input 48 Volts
Input Voltage
48VDC nominal, 36-72 volts range
Input Current
48V / 63 Amp maximum
37V / 80 Amp maximum
71V / 40 Amp maximum
Inrush Current
<350 Amps cold start
Protection
Over Power Protection
130% ± 10%
Over Voltage Protection
Yes, for +5V, +12V, +3.3V
Short Circuit Protection
Yes (All Outputs shutdown and latch off)
Environment
Operating Temperature
0°C To +50°C
-20°C To +60°C for the PSTC-482500H
Storage Temperature
-20°C To 85°C
Efficiency
>80% typical at full load, 48 VDC input
Typical at full load
Safety
Designed to meet IEC60950-1, EN60950-1
UL1950
Meets TUV
EN60 950
EMI
EN55032:2015/AC:2016, CISPR32:2015, EN61000-3-2:2014, EN61000-3-3:2013, EN55024:2010 +A1:2015
Class B
CISPR
Class B
EMC
CE Mark
Dimension
L x W x H
450(L) x 150(W) x 86(H) mm / 17.7(L) x 5.9(W) x 3.39(H) Inches (standard PST-420mm depth)
Weight
13.5 kg
27.6 pounds
Connectors

ATX 24 Pin x 1: Molex29-01-2240 or equivalent
+12V(P4) 4 pin x 1: Molex 39-01-2040 or equivalent
HDD, DVD 4 pin x 2: Molex 8981-04P or equivalent
FDD 4 pin x 2: AMP171822-4 or equivalent
Serial ATA x 8: Molex 675820000 or equivalent
Process EPS 8 Pins x 2 Molex 39-01-2080 or equivalent
PCIe 6 + 2 Pin x 10 (optional 16 sets maximum)

Cable length
530 mm nominal
For ATX 20 and 24 Pinout Diagrams Click Here
Drawing
Drawing and cable specifications
Dimensions of ATX-12 computer power supply with 48 volt input: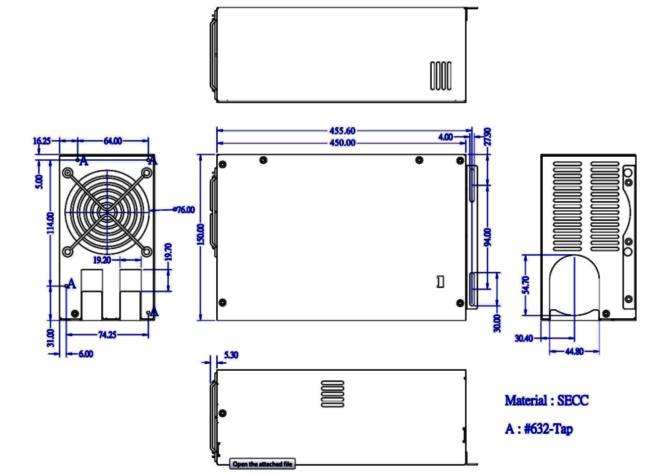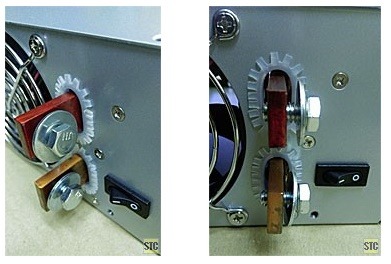 Advantages
:

48V DC input PSII Form Factor ATX-24 pin or ATX-12 Computer Power Supply.

48V Autonomous vehicle computer power supply

Wide 35V to 73V input voltage range.