---
These are fully regulated switching power converters (switchmode), designed for the charging of of 24 volt lead acid batteries 12 volt vehicles, marine, military, PLC, and cell tower applications. These are attractive, reliable, robust DC to DC battery chargers with high power output. They are relatively immune to vibration and shock, and come in three versions, heavy duty, water proof and military grade. Designed specifically to work in Day Cab HVAC transport vehicle applications.

These converters have common negative, so they are not fully isolated, but can be used for almost all 12 volt applications. They feature a spark-free connection, wide temperature range and 3 year warranty.
DC DC battery charger
Heavy Duty
20 Amp
DC to DC charger

Conformal coated and ruggedized
20Amp
DC to DC charger
Part Number
and Price
PBCD605-12-24
$745

Allow up to 15 days for shipping
PBCD605-12-24X
$820

Allow up to 15 days for shipping
Input Voltage
11 to 15 VDC
Max Input Current at Full Load
40A
Output Voltage
27.2 VDC
For charging 24V lead acid batteries
Max Output Current(s)
18 Amps at 11V input
25 Amps at 15V input
Max Output Power
Output amps =
Vin/Vout * 45 amps
Duty Cycle
100%, 24 hours a day
Type of Battery Charged
Standard SLI, deep cycle lead acid, VRLA (valve regulated lead acid), AGM and Gel Cells
Low Voltage Input Alarm
10.5V
Output Overvoltage Crowbar
32.0V ± 1V
Output current limit?
Yes, voltage foldback to keep current within range
Yes
Operating Temperature Range
-25°C to +40°C
-40°C to +55°C
Humidity
0-95% Relative Humidity
Efficiency
>90 % at maximum output
Line Regulation
<±0.05V
Load Regulation
<±0.05V
Switching frequency
kHz
Output ripple noise
<50 mV rms
Noise inserted on the input terminals
<50mV rms
<50 mV rms
Isolation
Common negative
>500 volts isolation from case to any terminal
Remote power on/off
No
Input Fuse
40A AGC x 2
Connections
Input #10 AWG wires
Output Screw terminals, two plus and two minus terminals
Each screw terminal can sink our source up to 25 amps, for higher currents use wires in parallel
Protection
Over Voltage , Over Current, Current Limiting, Short Circuit Automatic Recovery, Reverse Polarity Input, Reverse Battery Protection, Over Load, Over Temperature Shut Down, Input Undervoltage Shutdown, Output Overvoltage Crowbar
Dimensions
231 x 198 x 109
(9.1 x 7.8 x 4.3 inches)
Drawings
Click Here for Drawing
Weight
13.38 Kg (29.5 lbs)
Finish
Black Chromate/ Power Epoxy Coat
Audible Noise
None
Typical Service Life
>87,000 hours
Warranty
3 Years
3 Years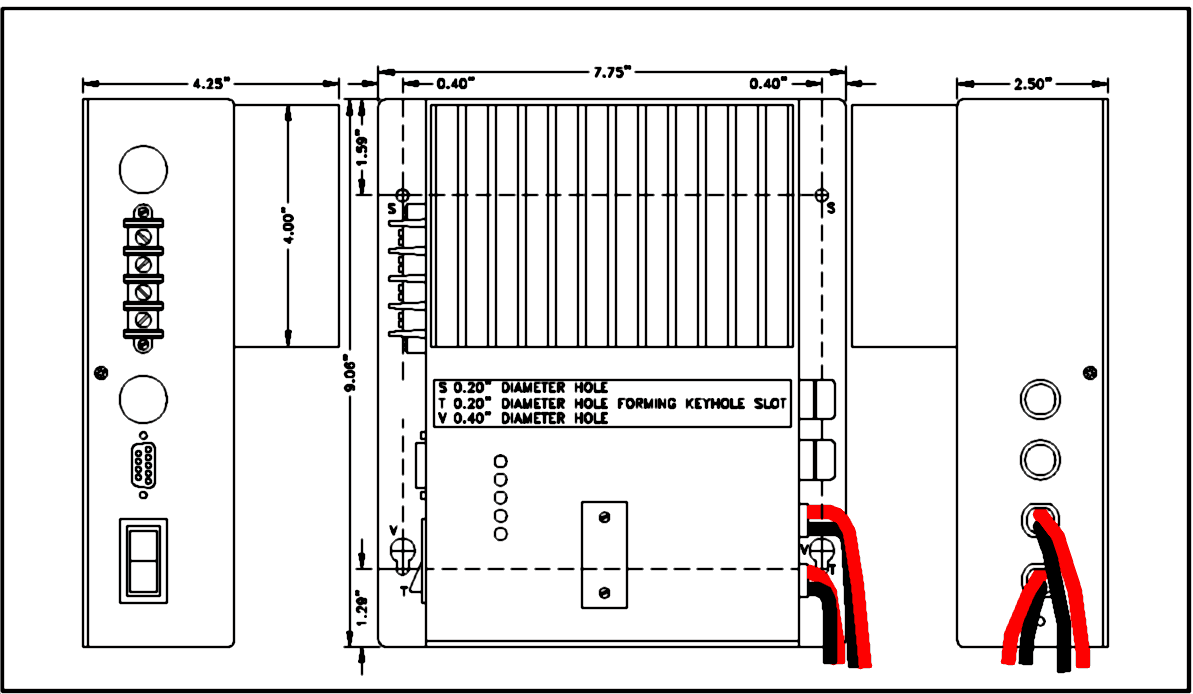 Advantages:

Heavy Duty, High Current Switchmode DC DC battery chargers.

High efficiency.

Excellent line and load regulation.

Wide input voltage range suitable for 12 Volt, 14 Volt and 16 Volt systems.