These DC/DC converters are useful for voltage conversion to operate 12 volt negative ground electronics off 6 volt, positive ground or negative ground vehicles, best for radios, stereos, DVDs, CB radios, transmitters.


This is a 6 volt dc to 12 volt dc converter. These are Boost Converters. For semi-custom applications you can specify any output voltage from 10 to 15 volts with a minimum order of 10 pieces. They can be adjusted between 13.8 and 11.2 volts with an internal pot.

The PSTC-0624012 is a fully isolated 250 Watt 6V to 12V DC converter that can be used with either negative ground or positive ground cars. Positive ground 6V cars can now run 12 volt negative ground electronics.
| | |
| --- | --- |
| | Qty 1-10 |
| PSTC-0624012 | Obsolete, sorry. |
Model Number
PSTC-0624012
Input Voltage Range
4.5VDC to 9VDC
Negative or Postive ground
Minimum Startup Voltage
Peak Output Power
250Watts
Peak Output Current
20.8 Amps
Continuous Current
20.8 Amps
Continuous Output Power
250 Watts
Output Voltage
12 VDC regulated and filtered (adjustable between 11.7 to 13.9V, see photo below)
No-Load Overhead
2 amps
Line Regulation
± 1%
Load Regulation
± 5%
Efficiency
>70-75%
Input Reverse Polarity Protection
NO reverse polarity protection
Protection
Short circuit protection by shut down and latch off
Over power protection to 130% ±10% of rated power by shutdown and latch off
Over input voltage protection 12 Volts
Remote (Key) control
None, an external switch or relay capable of handling 60+ amps must be used.

Click here for a wiring diagram for the included switch
Cable
Note that if you are drawing 240 watts from the PSTC-0624012 the input will be 55 amps. This requires a large cable, 6 to 10 AWG or bigger, as short as possible. For the output 10 to 14 AWG is recommended, but it can be smaller depending on your cable length and actual intended power draw.
Weight
1.5 kg, 3.3 pounds
Dimensions
100mm x 240mm x 40 mm
4 x 9.5 x 1.6 inches

Note: For the PSTC-0624012 the outputs are fully isolated from the inputs so you can connect the negative output to the car chassis whether the car is a positive or negative ground. The DC converter draws a lot of amps from the car, so be careful when running the unit when the engine is not running or you will drain the battery.


Adjusting the output voltage.

The case must be removed to adjust the output voltage. The controlling potentiometer is shown in the photo (VR1). The adjustment range is typically 11.7 to 13.9 volts.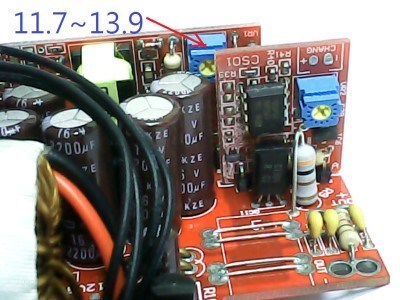 Q/A


Q: My DC converter shuts itself off.
A: The main cause of this is over temperature. This can come from putting the unit in the engine compartment, but it can also happen in places like Phoenix, Arizona where the car is left in a parking lot to bake.

This can also come from trying to draw too much power from the unit. A stereo rated at 180 watts will draw much more than 180 watts from the 12 volt line because of inefficiencies in the amplifier. You may not be able to turn the stereo to these kind of sound pressures without the DC converter shutting itself off.

Our engineers say that an amplifier that is rated for 180 watts output to the speakers can draw up to 410 watts from the 12 volt supply.

The two effects add to each other. When the ambient temperature is high the dc converter will shut off at lower decibels.

Q: Can the PSTC-0624012 be used with 6 volt cars that have negative ground?
A: Yes. You do not have to isolate the stereo system from the car chassis. Tthe PSTC-0624012 works with either negative ground or positive ground cars.

Installation of the PSTC-0624012


Input: Hook up the plus and minus inputs as indicated on the front panel.

Output: Take the minus output and ground it to the car's chassis. Take the plus output and attach it to the radio.

Mounting: Mount the PSTC-0624012 in a place that will be free from dust and spray. Use large cables for the input, plan for 35 amps draw at 6 volts for 120 watts output.
Advantages:

Inexpensive, high current DC/DC converter stabilizes voltage in automotive applications.

Also can be used to provide regulated 12 volts from a 6 volt sealed lead acid battery--excellent for special purpose UPS DC battery backups.

High efficiency >85%.