For more DC/DC battery chargers


A DC input lead acid battery charger with 72 volt input to charge 24 volt batteries. Either 2 or 3 stage charge, user selectable.
DC-DC Converters
Heavy Duty
10 Amp
DC to DC Battery Charger

Marine Grade IP66 water tight
10 Amp
DC to DC Battery Charger

Ruggedized and wide temperature range
10 Amp
DC to DC Battery Charger

Part Number
and Price
PBCD315-72-24
$745
Allow up to 15 days for manufacturing

PBCD315-72-24W
$1270
Allow up to 15 days for manufacturing

PBCD315-72-24X
$829
Allow up to 15 days for manufacturing

Country of Origin
Canada, NAFTA eligible
Input Voltage
65 to 90 VDC
Nominal Input Voltage
72V
Max Input current at No Load
mA
Float Voltage
27.2VDC
Absorption Voltage
28.8VDC
Switch to Float Current
1.5A
Max Output Current(s)
10 Amps
Voltage Adjustment
±1 Volt
Max Output Power
300W
Output current limit?
Yes
Operating Temperature Range
-25°C to +40°C
(-13°F to +104°F)
-25°C to +40°C
(-13°F to +104°F)
-40°C to +40°C
(-13°F to +104°F)
Derating
2.5% per °C up to +50°C
2.5% per °C up to +50°C
2.5% per °C up to +55°C
Efficiency at maximum output
>75 %
Line Regulation
<±0.05V
Load Regulation
<±0.05V
Switching frequency
kHz
Output ripple noise
<25 mV rms
Noise inserted on the input terminals
<25 mV rms
Isolation
Fully isolated to 1500VDC input-output, 1500VDC output-ground, 500VDC output-case
Low input voltage alarm
65V
Remote power on/off
No
Input Fuse
MDA-10
Connections
Screw terminals output
Wire leads input.
Protection
Input Undervoltage, Output Over Voltage , Current Limiting, Short Circuit (automatic recovery), Reverse Polarity , Over Load, Over Temperature Shtudown
Dimensions
244 x 208 x 64mm (9.6x 8.2 x 3.5 inches)
Weight
3.4 Kg (7.5 pounds)
Audible Noise
None
Cooling
Convection, no fan
Warranty
3 years
1 Year
1 Year
Duty Cycle
24 hours a day, 100% continuous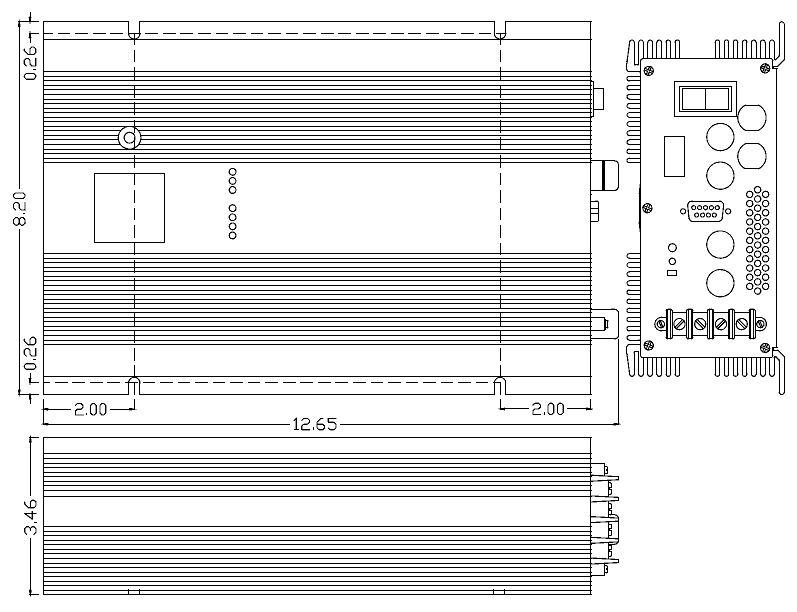 The following table describes the display of LED lights at different stages of charging:
Q: Can I leave the battery continuously on the charger?
A: Yes, the charger will go into "maintenance mode" and keep the battery topped off.
Q: Can I draw power from the battery when the charger is connected?
A: Probably. . . There is some pulsing going on with the charger which your equipment might not be happy with (it is a pulse-charger, 1 second pulses with 20mS gaps), but if you combine this with the battery the battery will fill in the gaps, so the ripple is no more than it would see in an automotive application.
Q: If I discharge the battery while the charger is attached will the charger maintain a full charge?
A: Yes, When the charger detects that the battery voltage has dropped it knows that the battery needs to be charged and goes into "bulk charge" mode again automatically.
Q: Can the charger be left connected to the battery when the charger is not turned on, or when the input voltage of the charger has been cut off?
A: Yes.


Applications:

Charging lighting system batteries, and scooters in a train, locomotive, boat, or electric vehicle.

Fully automatic without intervention.

Output short circuit and battery polarity protections. Input low voltage and high voltage connections.

Charging 24 volt "jump start" batteries from a 72 volt locomotive or float.

Charging 24 volt electric bicycle from a train.

Three stage charge--constant current, constant voltage, and float. It is suitable for any size 24 volt lead acid battery.


Installation Notes:

A qualified automotive electrical technician should be used to wire the charger into the vehicle.
The PBCD315-72-24 converts 72 volt power into 24 volt power with 75% efficiency, so for a 20 amp output the input needs over 4.4 amps. Make sure that the wires connecting the are adequate for the current and the length of the run. If the voltage drop in the wires are too much the "Low Battery Voltage" alarm will come on. Wires that are too small may also overheat and melt the insulation, causing a dangerous situation. 12 gauge is usually adequate for runs up to 20 feet of wire (adding together the positive and negative wire lengths).
It is OK to leave the unit on the charger when the power to the charger goes on and off.
Mount in an area that will get adequate ventilation and will be free from rain, spray, or excessive dust.


Summary:
Model PBCD315-72-24 DC input battery chargers. DC Input Voltage 65-90V Charging Voltage 24V Nominal, 14.4 volt maximum. Maximum Charging Current 20A Charging method: multistage charge. Protections include (1) Input and output polarity protect (2) Output short circuit protect (3) Over temperature protect