---
These are fully regulated switching power converters, designed to provide regulated 54.4 volt power for equipment in 48 volt vehicles, -48V for telecom installations and power plants. These are attractive, reliable, robust DC/DC converters good for fork lifts, off-road, construction, military, marine and recreational equipment. They are ultra-quiet both electrically and acoustically.

To determine the amperage you need just add up the watts of all the equipment to be powered and divide by 54.4volts.

These converters are fully isolated, so will work in positive ground or negative ground (+48V and -48V) applications.
DC-DC Converters
Heavy Duty
10 Amp
DC to DC Converter

Ruggedized, wide temperature range
10 Amp
DC to DC Converter
Part Number
and Price
PVTC615-48-48
$1009

Allow up to 3 weeks for manufacturing
PVTC615-48-48X
$1132

Allow up to 3 weeks for manufacturing
Country of Origin
Canada, NAFTA eligible
Input Voltage
40 to 60VDC
Max Input Power at No Load
< 10Watts
Output Voltage
54.4 VDC
(48V available, ask at time of order)
Output Voltage Adjustment
±1V typical
Max Output Current(s)
12.5 Amps
10 minutes maximum
Max Output Power Peak
680 watts
Max Output Power (continuous)
544 Watts
(40 Amps)
Duty Cycle
100% rated power 24 hours a day
Output current limit?
Yes
Operating Temperature Range
-25°C to +40°C
-40°C to +55°C
Derating
2.5% per °C up to +50°C
2.5% per °C up to +60°C
Efficiency
>85 %
Line Regulation
<±0.5%
Load Regulation
<±0.5%
Transient Response
<2V for 50% surge
Switching frequency
60 kHz
Output ripple noise
<50 mV rms
Noise inserted on the input terminals
<50 mV rms
Isolation
>1500 volts isolation from case to any terminal, >1500 Volts isolation input to output. Transient voltage suppression.
Remote power on/off
Option
Digital Volt/Amp meter
Option
Indicators
Audio and visual indicators for constant current, low input voltage, low output voltage, over temperature. Dry Contact output failure relay.
Input Fuse
1 x 25A ATC
Connections
Input #12 AWG wires
Output Screw terminals
Protection
Dimensions
368 x 259 x 109 mm
Over Voltage , Over Current, Short Circuit , Reverse Polarity , Over Load (14.5 x 10.2 x 4.3 inches)
Drawings
Click Here for Drawing
Weight
3.2 Kg (7 lbs)
Audible Noise
None
Typical service life
87000 hours
Warranty
3 years
1 Year
Approvals
cETLus pending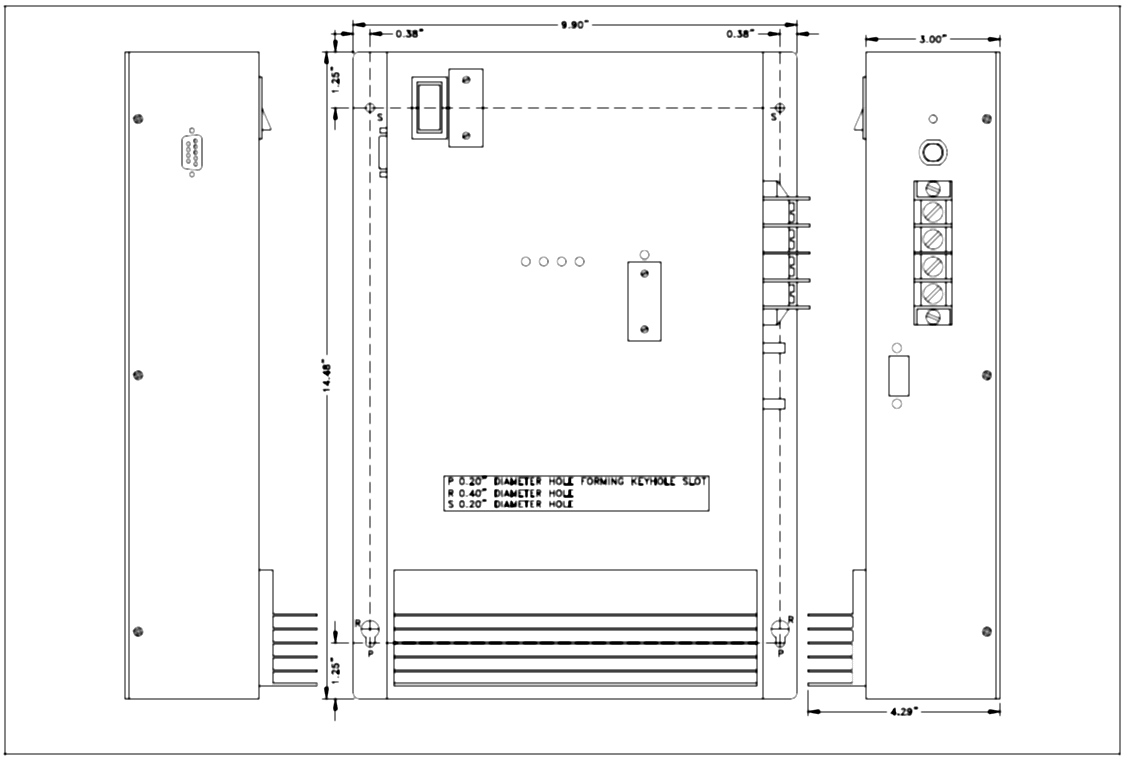 How to use the dry contact relay
Dry Contact Relay: To use your dry contact output fail relay you must connect a 9-pin D connector to the unit. You must use pins one and six as is indicated on the remote connector diagram. The relay is factory preset to fail in the closed position when the low output LED and buzzer come on. If you wish to have the relay fail in the open position when the low output LED and buzzer come on, you must take the cover off the unit and move the jumper to the other position on J10. J10 is located next to the relay K1.


To change the position of the jumper, first turn the unit off and disconnect the unit from both the power and load(s). Next, turn the unit on for 30 seconds to discharge the capacitors, then turn it off again. Remove the eight screws holding on the cover. Turn the unit upside down, remove the cover and locate J10. It will be next to the relay K1 as is shown in the above diagram. Simply move the jumper to the desired position as is shown in the above diagram. Replace the cover and re-install the eight cover screws. Reconnect the unit to the power and load(s).

Advantages:

Heavy Duty High Current Switchmode DC/DC Converters.

High efficiency.

Excellent line and load regulation.

Wide input voltage range suitable for 24 Volt, and 28 Volt systems.