June 10, 2021
600 Watt Frequency converter, 115V single phase AC input, 115V 400Hz three phase output. Pure sine wave.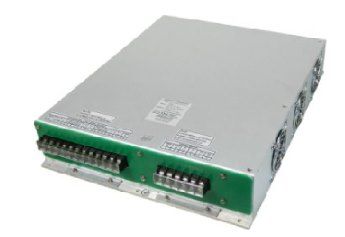 The range of 110VAC input is 97-132 VAC, 47-63 Hz . Please call for 230VAC input version.


Avionics equipment having power over 500VA is required to accept 3-phase. This frequency converter is designed to be able to run such equipment from 60Hz power. This rugged, frequency converter utilizes field-proven technology to generate the required output power. It is a mature design with a track record in numerous applications. Cooling is by high quality built-in fans which draw air into the unit, and by conduction via the baseplate. All heat generating components are installed on aluminum heatsink blocks which are thermally connected to the base plate. This also ensures exceptional mechanical ruggedness. Conformal coating provides protection against humidity and airborne contaminants. Full electronic protection, low component count, large design headrooms and the exclusive use of components with established reliability contribute to a high MTBF.
Pure sine wave 400 Hz three phase output 115VAC line to neutral, 190VAC line-to-line.
3 Amps per phase
Very rugged and reliable industrial quality, ROHS, NAFTA eligible.
2 year warranty
Input 115VAC 50Hz, 60Hz
Full electronic protection
Isolated, 2250V input to case. Output neutral is connected to the case
Suitable for any load that requires less than 1000VA continuous.
Extra heavy filtering
Ultra quiet with no electrical interference.
600 watt AC/3-phase 400Hz AC frequency converter
115VAC to 3phase 115 VAC 400 Hz
Part Number and Price
FCA1000-115.60—110.400.3P-U0164
$2508

Allow up to 8-12 weeks for manufacturing

Country of Origin
Canada, NAFTA eligible
Input Voltage
97-132VAC
Input Frequency
47-63 Hertz
Includes 50Hz, 60Hz
Output Voltage
115VAC 3-phase line-neutral
190VAC line-line
Output Frequency
400Hz pure sine wave
Max Output Current(s)
3 Amps per phase
Max Output Power
600VA
Efficiency
82% at full load typical
Load Crest Factor
2 at 90% load
Output current limit?
Yes, and short circuit protection
Operating Temperature Range
0°C to +50°C
Humidity
5-95% non-condensing
Duty Cycle
Continuous power 24 hours per day
Output Distortion
<5% total harmonic distortion at full load
Line Regulation zero load to full load
< ±3%
Load regulation zero load to full load
< ±3%
Input and output connections
Input: 3-pole terminal block 3/8" spacing
Output: 12 pole terminal block with 3/8" spacing
Protection
Inrush current limiting, Varistors, Internal fuse, Under voltage input, Over Voltage , Over Current, Short Circuit , Over Load, thermal shutdown with automatic recovery
Isolation
2250VDC input to chassis
Line neutral output connected to chassis
2250VDC output to chassis
Dimensions
280 x 66 x 361mm (11" x 2.6" x 14.2")
Weight
9 lbs, 4 kg
Cooling
Fans and baseplate
Thermal shutdown
Automatic recovery
Shock/Vibration
IEC 61373 Cat 1 A & B
MTBF
120,000 hours at 45°C
Warranty*
2 years *Warranty depends on installation within good engineering practice.
Agency compliance
Designed to meet C22.2 No. 107.1 - 01,
UL 458 and EN60950-1