August 4, 2020
GermKick® Hands-Free, pull-with-your-foot door opener
8 second video
GermKick hands-free door opener, made in the USA, and is ADA compliant
Spreading disease is a modern-day problem. It deserves a modern-day approach. GermKick is the attractive and affordable public restroom hardware, perfect for the Covid-era, right now.
The GermKick is a foot operated door handle that allows a swinging door to be opened hands-free. It is the attractive and affordable public restroom hardware to fit the modern world. GermKick is made of a very durable engineering polymer blend that is soft enough to protect shoes, and durable enough to last for years.
Reduces paper towel usage and litter.
Easy on your door hinges
Compatible with wood or metal doors.
Constructed of high-toughness engineering grade co-polymer.
Lots of colors available, including custom color matching options
Made in USA
Three year warranty
Perfect for your Pandemic start-up plan.
Package includes GermKick door opener, mounting screws, and instructions with mounting template
Product dimensions 7.7 x 5.4 x 3.1 inches (195.5 x 137.2 x 80.3 mm)
Product weight 100 grams ( 3.5 ounces)
Prevents the transfer of a variety of communicable diseases, such as COVID-19, SARS, MERS, Influenza, common cold, HIV and many more.
This germ-free door opener is similar to the StepnPull ® Hands Free 4 Health, Toepener® , Toad, TheDoorWave and Clean Hands® door foot pull openers with a modern appeal, color options and lower cost.
Production capacity 20,000 GermKicks a month
| | |
| --- | --- |
| Single piece | $49 |
| 10 - 49 pieces | $39 |
| 50 - 99 pieces | $32 |
| 100+ pieces | $30 |
| | | |
| --- | --- | --- |
| Germkick Black | | In Stock |
| GermKick Grey | | In Stock |
| GermKick Red | | In Stock |
| GermKick Safety Orange | | In Stock |
| GermKick PolyAgave* | | In Stock |
| GermKick Pink | | In Stock |
| GermKick Green | Please call | 7 days lead time |
| GermKick White | Please call | 7 days lead time |
| GermKick Blue | Please call | 7 days lead time |
*PolyAgave is a polymer additive based on fibers from the agave plant. PolyAgave is a by-product of the tequila industry and made in Mexico. The brown color and fiber-texture gives the GermKick an organic, wood, leather, rustic or military feel. It has the same durability as our other colors.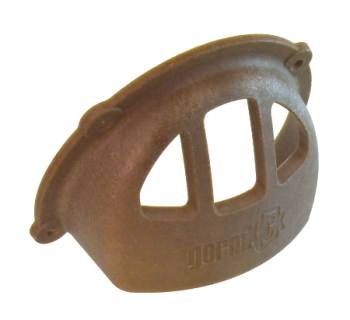 PolyAgave has an organic fibrous texture unlike the other colors we offer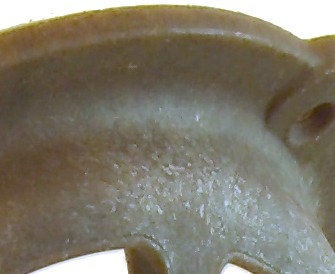 Custom colors are available with 100 piece minimum order. Pantone color matching is also available, please call.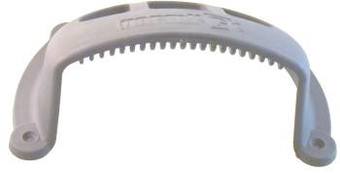 The GermKick touch free door opener has 1/2 inch thick soft polymer teeth for gripping shoes.
Modern upgrade from Germ-dodge, Germguard, Exitissue, Step on It, sani-door, and Foot Pull.
Q: What is better, a lift-pull or step-pull style door opener?

A: One advantage of a lift-pull opener is that it doesn't put force on the door hinges. Stepping on the corner of the door has a 3-feet of leverage on the bottom hinge and over 7-feet of leverage on the top hinge, particularly if teen-agers take it for a ride.. This could cause early failure of the door hinges, depending on their quality and the traffic through them.

Q: What about hollow-core doors?
A: The step-pull style door openers aren't recommended for use on hollow core doors because the doors can't stand the strain. Germkick puts less strain on the door and so can be used for both hollow-core and solid-core doors.
Reviews
Restaurant in CT: As part of our COVID start-up plan we bought two GermKicks for our high-end restaurant.
Meat processing plants in LA and MS: We have outfitted two facilities with GermKicks. Over 100 restroom and other swinging doors are now hands-free.
Las Vegas casino: We bought a GermKick for evaluation. After several days of using it we bought enough for all three of our resort properties. The alternate products with jagged teeth didn't match our customer experience expectations. See you in Primm!
Information Technology company in TX: Our employees wanted to see concrete evidence of our commitment to their health, this was a no-brainer.
Corrections Facility in ND: Installed GermKicks in our administration offices.
PowerStream Technology
1163 South 1680 West
Orem, Utah 84058
USA
Phone: 801-764-9060 Fax: 801-764-9061

© Copyright 2000, 2002, 2003, 2004, 2005, 2006, 2008,2009, 2010, 2011, 2012, 2013, 2014, 2015, 2016, 2017, 2018, 2019, 2020, 2021, 2022
Lund Instrument Engineering, Inc. All rights reserved.
Google Author Verification

Thank you for considering PowerStream