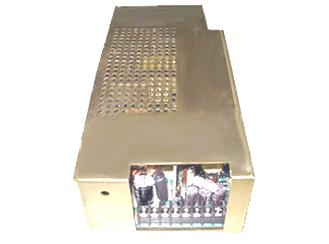 PST-STC481500


High efficiency, switchmode power converters. These DC-DC converters have DC input voltage of 9-17VDC, 18-36VDC, 38-72VDC, 96-140VDC, and 420-600VDC. Other input and output voltages can be made upon request.

DC/DC converter


Sample designs are listed below


High Efficiency (75-85%)


Adjustable ± 5%


Designed to meet UL60950, T V EN60950


Temperature range: 0°C to +50°C


FCC Part 15 Class B, CISPER22 (EN55022) Class B (CE mark)


MTBF >50,000 hours at maximum load and 25°C


This basic design comes in three configuration, the 600 watt, which needs no internal or external fan for cooling, the 1200 watt, and the 1500 watt which use water circulation cooling.
600 Watt DC to DC Converters
PSTC-12600-12
PSTC-12600-13.8
Input Voltage
9-17 VDC
9-17 VDC
Output
12 volts, 50 Amps
13.8 Volts, 43 Amps
Other output voltages on request
Size
127 x 76 x 42 mm
Weight
220 grams, 0.5 pounds, 7.7 oz
220 g, 0.5 lb,7.7 oz
Input Connector
Screw terminal block
Screw terminal block
Output connector
Screw terminal block
Screw terminal block
Line Regulation
±1%
±1%
Load Regulation
±5%
±5%
Efficiency
65% typical
65% typical
Power Good Signal
TTL compatilble 500 mS delay on, 1 mS delay on
Over Power Protection
Shutdown and latch at 130% of continuous rated power
Short Circuit Protection
Shutdown and latch off
Over voltage protection
yes, depending on output voltage
Isolation
1500 VAC for 1 second, input to output, Input to frame ground
Leakage Current
<0.75 mA
Dimensions
225 mm x 120 mm x 70 mm, 8.9" x 4.72" x 2.75"
Weight
3.5 kg, 7.7 pounds
Cooling
600 watt version needs no fan for cooling
Temperature
0°C to 50°C operating, -20°C to +80°C storage
Price
$3600.00
4 weeks delivery
1200 Watt DC to DC Converters
PSTC-241200-12
PSTC-241200-24
Input Voltage
18 to 36 VDC
18 to 36 VDC
Output
12 volts 100 Amps
24 volts 50 Amps
Other output voltages on request
Size
127 x 76 x 42 mm
Weight
220 g, 0.5 lb,7.7 oz
Input Connector
Screw terminal block
Output connector
Screw terminal block
Line Regulation
±1%
±1%
Load Regulation
±5%
±5%
Efficiency
65% typical
65% typical
Power Good Signal
TTL compatilble 500 mS delay on, 1 mS delay on
Over Power Protection
Shutdown and latch at 130% of continuous rated power
Short Circuit Protection
Shutdown and latch off
Over voltage protection
yes, depending on output voltage
Isolation
1500 VAC for 1 second, input to output, Input to frame ground
Leakage Current
<0.75 mA
Dimensions
225 mm x 120 mm x 70 mm, 8.9" x 4.72" x 2.75"
Weight
3.5 kg, 7.7 pounds
Cooling
600 watt version needs no fan for cooling
Temperature
0°C to 50°C operating, -20°C to +80°C storage
Price
$3600.00
4 weeks delivery
1500 Watt DC to DC Converters
PSTC-481500-36
PSTC-481500-75
Input Voltage
38 to 72 VDC
38 to 72 VDC
Output
36 volts 40 Amps
75 volts 20 Amps
Other output voltages on request
Size
127 x 76 x 42 mm
Weight
220 g, 0.5 lb,7.7 oz
Input Connector
Screw terminal block
Output connector
Screw terminal block
Line Regulation
±1%
±1%
Load Regulation
±5%
±5%
Efficiency
65% typical
65% typical
Power Good Signal
TTL compatilble 500 mS delay on, 1 mS delay on
Over Power Protection
Shutdown and latch at 130% of continuous rated power
Short Circuit Protection
Shutdown and latch off
Over voltage protection
yes, depending on output voltage
Isolation
1500 VAC for 1 second, input to output, Input to frame ground
Leakage Current
<0.75 mA
Dimensions
225 mm x 120 mm x 70 mm, 8.9" x 4.72" x 2.75"
Weight
3.5 kg, 7.7 pounds
Cooling
600 watt version needs no fan for cooling
Temperature
0°C to 50°C operating, -20°C to +80°C storage
Price
$3600.00
4 weeks delivery
1500 Watt DC to DC Converters
PSTC-1201500-36
PSTC-481500-75
Input Voltage
96 to 140 VDC
96 to 140 VDC
Output
36 volts 40 Amps
75 volts 20 Amps
Other output voltages upon request
Size
127 x 76 x 42 mm
Weight
220 g, 0.5 lb,7.7 oz
Input Connector
Screw terminal block
Output connector
Screw terminal block
Line Regulation
±1%
±1%
Load Regulation
±5%
±5%
Efficiency
65% typical
65% typical
Power Good Signal
TTL compatilble 500 mS delay on, 1 mS delay on
Over Power Protection
Shutdown and latch at 130% of continuous rated power
Short Circuit Protection
Shutdown and latch off
Over voltage protection
yes, depending on output voltage
Isolation
1500 VAC for 1 second, input to output, Input to frame ground
Leakage Current
<0.75 mA
Dimensions
225 mm x 120 mm x 70 mm, 8.9" x 4.72" x 2.75"
Weight
3.5 kg, 7.7 pounds
Cooling
600 watt version needs no fan for cooling
Temperature
0°C to 50°C operating, -20°C to +80°C storage
Price
$3600.00
4 weeks delivery