Quantity
1-10
11-100
101-500
501+
PST-INV4824-60Hz

40 watt inverter, 48VDC in, 24VAC out
$122 Special order, minimum order quantity 30 pieces, 6 weeks lead time

$110
$89
$83
PST-INV4824-50Hz
(allow 1-2 weeks)

50 Hz version of the forty watt 48 volt DC to 24 volt AC inverter
$122 Special order, minimum order quantity 30 pieces, 6 weeks lead time

$110
$88
$83
Optional DIN mounting hardware
(not including the rail)
Fits both 35mm and 15mm DIN rails
$3.50

PST-INV4824
Function: DC/AC Inverter with 24VAC output
Country of Origin
USA, NAFTA qualified
Output power
40VA continuous (40 Watts) (24VAC 1.6Amps nominal)
50VA for 1 minute at 50% duty factor( 1 minute above 40VAC, one minute below 40VA
Output Current
1.6 Amps continuous, 2 amps peak
Input voltage
DC 46VDC to 50VDC startup,
44VDC to 54VDC operating.
Output voltage
AC 24VAC
Output voltage regulation
± 10%
Output wave form
Pure sine wave
Output frequency
60Hz ± 1% (50Hz available, ask)
Standby current
0.2A, 200 mA typical
Efficiency
90% max.
Cooling
Convection cooling, no fan
Operating Temperature
-10°C to +45°C
Protections
Output short
Polarity reverse
Under voltage input
Under voltage protection
Unit will shut itself down when the input voltage is less than 44VDC ±5%. It will restart when the voltage is above 46VDC
DC Input
Screw terminals
AC output
Screw Terminals
Isolation
DC input is galvanically isolated from the AC output, greater than 100V hipot
Dimensions
132 X 75 X 38 mm , 5.2 x 3 x 1.5 inches
Weight
277 gms., 10oz, 0.6 lbs
Environment
Indoor, or protected from wet conditions, non condensing
Drawing
Drawing and mounting dimensions click here
Solidworks file
More options
Please ask if you need different input voltages, output voltage, output power, surge protection, connectorization, or form factor.
Optional DIN-Rail mount adapter fits both 35mm and 15mm rails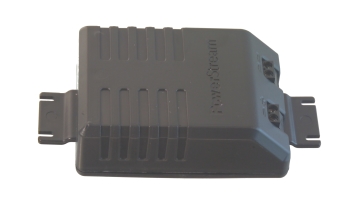 Advantages:

Inexpensive DC/AC power inverter light weight and small size will convert 48vdc to 24vac.

Makes 24 VAC equipment usable in 48 VDC installations. DC to AC inverter can work with solar or battery back-up systems.

Useful for solar powered security systems. Also useful for irrigation system controllers, and even Dentist Offices.

This product is now in production