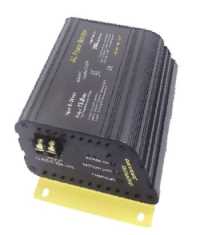 Charge a small battery from a large one, or from an automobile, truck, tractor or back-hoe. This DC converter automatically converts any voltage from 8V to 16V to 13.8V for battery charging. It has a active current limit of 8 amps. It also features total isolation so the input ground is galvanically isolated from the output ground. This could be used for charging negative grounded batteries in a postitive ground car, and vice versa.
Inexpensive fully isolated taper style controlled lead acid battery charger voltage charger with 8 VDC to 16 VDC input. Used to charge 12 volt lead acid batteries when only DC voltage is available. It cannot overcharge the battery.
For 24V to 12V, 12V to 24V, 24V to 24V DC-input chargers click here
Model Number
PST-PB1108
DCDC Charger
Input Voltage Range
8 VDC to 16 VDC
Battery Voltage (nominal)
12 Volts
Continuous Charging Current
8 Amps
Charging Algorithm
Constant current-Constant voltage (CC-CV)
Battery Size
8 AH to 100+ AH
Protections
Over temperature protection
Output short circuit protection
Low input voltage protection
Battery polarity protection on the output
NOT polarity protected on input
Ignition noise and load dump protection
Isolation
Full galvanic isolation means that both the plus and minus outputs are isolated from the input. This allows two of the PST-PB1108 to be used to charge in parallel (to decrease charge time) or series (to charge two 12 volt batteries in a 24 volt configuration)
Output stability
Ripple & Noise <25mV RMS
Output regulation with varying input 8-16V -- <20mV
Efficiency
>87%
Dimensions
100 x 115 x 70 mm
4 x 4.5 x 2.75 inches

LED indicator
Green-Power on
Yellow--Input voltage too low
Red--Output overload
(there is no "battery charged" indicator)
Connection
Input: 28 inch wires with 6.5mm inside diameter ring terminals
Output: screw terminal block with M3 screws
Operating Temperature
-20-50°C
Remote Turn-on
When +12V is applied to the brown wire of the input harness the unit will turn on if the rocker switch is turned off.
Weight
750g, 1.7 pounds
Cooling
Passively cooled, no fan
The following table describes the display of LED lights at different stages of charging:
Q: Can I leave the battery continuously on the charger?
A: Yes, the charger will go into "maintenance mode" and keep the battery topped off.
Q: Can I draw power from the battery when the charger is connected?
A: Yes, the output is fully isolated from the input, so there is no danger in confusing grounds.
Q: If I discharge the battery while the charger is attached will the charger maintain a full charge?
A: Yes, When the charger detects that the battery voltage has dropped it knows that the battery needs to be charged and goes into "constant current" mode again automatically.
Q: Can the charger be left connected to the battery when the charger is not turned on, or when the input voltage of the charger has been cut off?
A: Yes.
Q: Can I charge my 12 volt golf caddy from my car?
Yes, the charge time should be less than 2 hours for a fully depleted golf trolley.
Advantages:

Inexpensive DC input charger.

Protects even small 12 volt batteries from gassing or damage.
Applications:

Charging wheel chairs, bicycles, golf trollys and scooters in a car, van or bus.

Fully automatic without intervention.

Output short circuit and battery polarity protections.

Charging 12 volt sealed lead acid batteries from a vehicle.

Charging 12 volt "jump start" batteries from a 12 volt tow truck or service vehicle.

Charging 12 volt electric bicycle from a vehicle.

Two stage charge--constant current, constant voltage. T


Installation Notes:

A qualified automotive electrical technician should be used to wire the charger into the vehicle.
The PST-PB1108 converts 12 volt power into 13.8 volt power for charging, so for an 8 amp output the input needs over 9 amps. Make sure that the wires connecting the PST-PB1108 are adequate for the current and the length of the run. If the voltage drop in the wires are too much the "Low Battery Voltage" alarm will come on. Wires that are too small may also overheat and melt the insulation, causing a dangerous situation. 12 gauge is usually adequate for runs up to 20 feet of wire (adding together the positive and negative wire lengths).
It is OK to leave the unit on the charger when the power to the charger goes on and off.
Mount the PST-PB1108 in an area that will get adequate ventilation and will be free from rain, spray, or excessive dust.