. These 9V DC/DC converters are useful for voltage conversion to operate 9 volt electronics from 10 to 15 volt power sources such as cars and trucks
Model Number PST-DAA1209-2
$30.95

Quantity pricing:
1-10 $30.95
11-100 $25.35
101-500 $18.75
501+ $16.00
Input Voltage Range
10 VDC to 15 VDC Nominal 12 VDC
Peak Output Power
10.8 Watts
Peak Output Current
1.2 Amps
Continuous Current
1.2 Amps
Continuous Output Power
10 Watts
Output Voltage
9 volts DC
(4.5 to 10 volts available by special order)
Output voltage options
Optional voltages special order from the factory (10 piece minimum):
8.4 V, 8.5 V, 9 V, 9.5 V, 9.6 V, 10 V
4.5 V, 4.8 V, 5 V, 6 V, 6.5 V, 7.0 V, 7.2 V, 7.5 V, 8 V
Output voltage options in stock
5V , 6.5V
No-Load Overhead
20 mA
Load Regulation
± 3.4%
Line Regulation
± 0.3%
Efficiency
>70% at full load
Output Ripple
< 40 mV p-p
Topology
Fully Isolated Buck Converter, case isolated
Isolation
Input-- Output 1500VDC Input -- Chassis 1500VDC Output -- Chassis 500VDC
Protections:

Input Polarity Protect
Input Fuse
Output Current Limited

Temperature
5 to 45°C (41 to 113°F)
Dimensions
40 x 150 x 44 mm
1.6 x 5.9 x 1.7 inches
Click here for dimensioned drawing
Weight
200 grams, 7 oz
Connection
Flying wire leads
PST-DAA1209-2
12V to 9V
(other output voltages are available)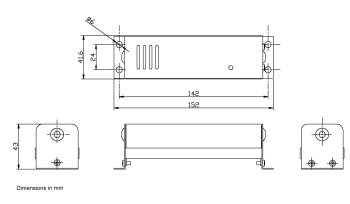 Click here for dimensioned drawing
Advantages:

Inexpensive high current DC/DC converter stabilizes voltage in automotive and railroad applications that require 9 volts.

Also can be used to provide regulated 5 volts from a sealed lead acid battery--excellent for special purpose UPS DC battery backups.

DC input and output LEDs, input fuse protection, input polarity protection, output current limit.