---
These are fully regulated switching power converters (switchmode), designed to allow the use of 12 volt or 24 volt equipment in 32 volt systems. These are attractive, reliable, robust DC/DC converters good for fork lifts, off-road, construction and recreational equipment.

To calculate the amperage you need just add up the watts of all the equipment and divide by 24 volts (or 12 volts).

These converters have common negative, so they are not fully isolated, but can be used for almost all (12 volt or) 24 volt applications. This replaces the PVTC72-32-24, PVTC72-32-12, PVTC90-32-12 and the PVTC90-32-24 which is are no longer available.
DC-DC Converters
Heavy Duty 32V input, 12V out 10 Amp DC to DC Converter

Heavy Duty 32V input, 24V out 10 Amp DC to DC Converter

Part Number
and Price
PVCH10-12
$196

Allow up to 3 weeks for manufacturing
PVCH10-24
$196

Allow up to 3 weeks for manufacturing
IP67 certified water tight case version
PVCH-12Y IP67
$398

PVCH-24Y IP67
$398

Input Voltage
20V to 80VDC
30 to 80VDC
Output Voltage
13.6 VDC
(12V available, ask at time of order)
27.2 VDC
(24V available, ask at time of order)
Max Output Continuous
10 Amps continuous
10 Amps continuous
Max Output Power (continuous)
136 Watts continuous
272 Watts continuous

Output current limit?
Yes
Operating Temperature Range
-25°C to +45°C
Derating
-2.5% per degree C from +55°C to +85°C
Efficiency
>91%
>95 %
Isolation
Common negative
>1500 volts from case to any terminal
Common negative
Line Regulation
<±0.5%
Load Regulation
<±0.5%
Switching frequency
kHz
Output ripple noise
<50 mV p-p
Noise imposed on input terminals
<100 mV p-p
Remote power on/off
No
Connections
Pluggable Phoenix Combi-Con four position screw terminals

Protection
Over Voltage , Over Current, Short Circuit , Reverse Polarity , Over Load
Dimensions
123 x 105 x 26mm (4.85 x 4.13 x 1.03 inches)
Drawings
Click Here for Drawing
Weight
0.28 Kg (0.62 lbs)
Audible Noise
None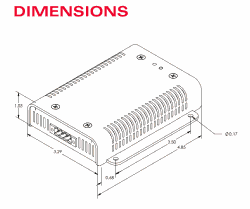 Advantages:

Heavy Duty Switchmode DC/DC Converters.

Marine, Automotive, Military, Industrial, Heavy Equipment applications

Excellent line and load regulation.

High tolerance for shock and vibration