12 volt portable battery station, 120 Watt Hours, now with Lithium ion, and built-in AC inverter. Optional 4-Pin DIN connector for photography


For 1 pound lithium ion battery 5, 6, 7.5, 9, 12, 14, 16, and 19 volts click here

450 watt-hour power bank and inverter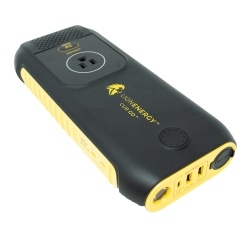 The innovative Lion-cub-go uses a Li-ion battery to create a 3 pound portable power source. It can be charged by a standard USB cell phone charger, using two chargers doubles the charge rate. It is also a battery pack with cigarette lighter output.

Often we get calls from photographers, astronomers, field researchers, CPAP patients, campers, fishermen and plain ordinary people like us who need a convenient source of portable power to power DC or small AC equipment in the field.

It consists of a tough high-impact polymer case that contains the battery and wiring for charging and discharging. The lithium battery can be charged or discharged in any position and is completely non-spillable. It is the maximum sized battery that can be transported in the passenger cabin of a commercial airplane..

For example, when the portable battery is used with your cell-phone car charger attached the Lion Cub Go can run a typical cell phone for 25 times longer than the battery in the phone, or charge a smart phone 15-20 times. Run a 60W laptop power supply for 80 minutes off AC.

Special Features :
120 Watt-hours stored--Can be operated in any position.
Portable rechargeable battery with automatic overcharge protection
Directly power devices designed to plug into a car power point or cigarette lighter, such as laptops, games, cell phone chargers, GPS, palmtop computers, flashlights, heated clothing, sports score boards, sleep apnea or 12 volt model car chargers.
For added flexibility use our regulated DC/DC car power adapters for voltage outputs from 1.5 volts to 24 volts to enjoy unlimited use of electronic products such as games, CD players, walkmans, score boards, video cameras, MINI TVs, and heated clothing.
More products can be powered with the 150 watt AC inverter with a three-prong NEMA 5-15 standard AC socket.
The USB charging ports can be charged anywhere a cell phone can.
Qualified for flight on commercial airlines, but only in the passenger compartment in carry-on luggage.
Specifications
Model Number
Lion Energy Cub Go
Charger
Charged with 5V USB charging ports. Two charging ports are provided to allow charging at twice the speed.
Either 10W or 20W charge rate.
Charge time
7 hours with two USB chargers connected
14 hours with one USB charger connected
12V output
Cigarette lighter socket, 12V nominal, 15 amps maximum, 180 watts
5V output
Three 5V outputs:
One 2.4A 12 watt USB port,
One USB QC3.0 quick charge port, and
One 5V 12W USB-C port (only 5V, 9V, and 12V available for this model) amperage 2.4A, 2A, 1.5A respectively
Note that the higher voltages on USB QC3.0 require communications between the device under load and the USB port to set the voltage.
120VAC output
One 3-pin NEMA 15-5 socket to power standard AC equipment at up to 150 Watts, 300W surge, modified sine wave
Flashlight
LED flashlight, 1 watt
Charge cycles
1000+ charge cycles
Dimensions
10.3 x 4.6 x 1.8 inches
262 mm x 117 mm x 46 mm
Weight
3 lbs, 1.4 kg

Portable battery capacity at full power:
| | | |
| --- | --- | --- |
| Output options | Full Power | Time at full power |
| 120VAC | 150 Watts | greater than 40 minutes |
| 5V 2.0 A | 10W | greater than 10 hours |
| 5V 2.4 A | 12W | greater than 8 hours |
| 12V 10A | 120W | about 1 hour |
Typical run time calculations
Power Drawn from Battery
(Watts = Amps*Volts)
Run time
1 watt
120
hours
5 watts
60 hours
10 watts
12 hours
15 watts
8 hours
20 watts
6 hours
30 watts
4 hours
60 watts
2 hours
90 Watts
1.2 hours
120 watts
0.9 hours

Accessory Table of DC/DC converters that will offer regulated DC voltage
Q: How long will a CPAP machine run using the Cub-Go?
A: Using a ResMed Escape II CPAP with the ResMed DC-12 converter one of our customers reports 6 hours run time.



Advantages:

Complete off-the-shelf battery pack/charger combination, including AC and Car chargers and 12 volt output.